Where did we start?
Jackie wanted a website to share info with her constituents, tell her story to voters, and accept donations to cover campaign costs. She publishes a monthly newsletter, so the website needed to provide the detailed stories described in the newsletter. Professional pictures had been taken, but those weren't on her site. She had a biography, but it need to be tuned up so that it was easy to scan.
What did we do for Jackie?
A Website that Connects Jackie with Her Constituents
We implemented a self hosted WordPress website that can tell Jackie's story and hold her articles.
A donations page and a paypal button that accept campaign donations on the new site.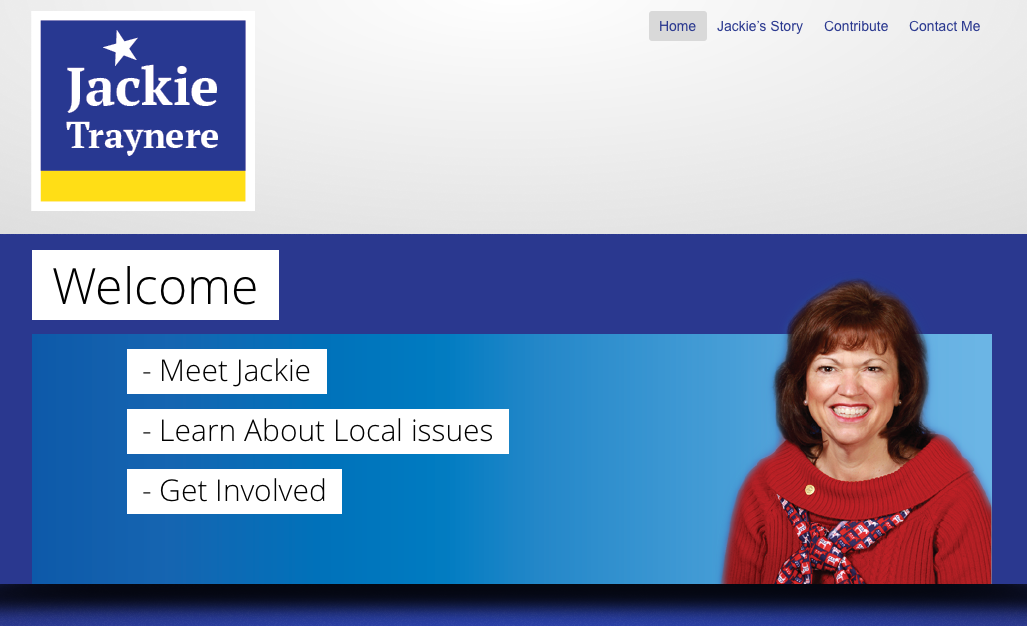 Graphics that Make the Site Look Engaging
To personalize the site, we edited the pictures she had so they would fit around the other content on the site.
The new site needed a logo that would match the new bold colors. We did some quick graphic design to make her a logo.
Content That Normal Visitors Will Read
For the biography, we made it easy to read. Cleaning up some of the wording adding headlines, and formatting.
Twitter Integration for Quick Updates
Jackie uses a twitter account for quick updates and we added a feed to her site so that those updates are visible to visitors.
Visit Jackie Traynere's Site